When I think about Egypt, I can immediately picture pyramids, relics and artifacts in my mind.What I was unaware of for years is that Egypt has another 'side' of it. It's actually on the southern tip of the Sinai Peninsula. It's the city called sharm el sheikh.
What's in Sharm elSheikh? Well, its known to be the most extra ordinary diving destinations in the Red Sea.  A lot of people spend their holidays to sharm el sheikh. Since its a diving destination, then you can be sure of spectacular beaches with lots of water activities and water sports such as snorkeling, windsurfing and the like.
 Wow! Now, I can't just imagine all the possibilities of excitement and fun once you're in Egypt. On one side of it, you can experience history and see great architectural structures paired up with horse riding, camel riding and desert safaris. Then on another part of Egypt are the sand, sea and fun at the beach.
Sounds like a perfect holiday? I think so too.
Here are a few images  of Sharm El Sheik that I borrowed from google.com: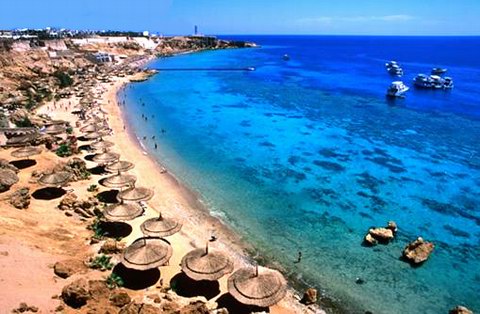 I'm sure these photos are enough to make you  imagine how wonderful it would be to see and experience the other side of Egypt. It's just amazing as to how a single country can offer diverse sights and entertainment.